Ad blocker interference detected!
Wikia is a free-to-use site that makes money from advertising. We have a modified experience for viewers using ad blockers

Wikia is not accessible if you've made further modifications. Remove the custom ad blocker rule(s) and the page will load as expected.
Daphne in hbp?
where does Daphne apear in the sixth book, as said in the article?--Rodolphus 13:53, 24 July 2008 (UTC)
Blood
Though Ron does say that Scorpius is a pureblood, Daphne and Astoria could still be half-bloods. According to the article here, if all of your grandparents are either pureblood or hal-blood, than you are a pureblood, but one parent isn't. In this case, that would have to be the Greengrasses, since the Malfoys definately qualify as "pureblooded" 68.49.1.146 21:09, April 21, 2011 (UTC) Leila</p>
Rowling has stated that to people like the Malfoys and the Blacks, to whom these distinctions matter, any traceable muggle ancestry automatically disqualifies one from being pure-blood. - Nick O'Demus 05:44, April 22, 2011 (UTC)
The article is wrong then, because "pureblood" means you have no muggle blood in you. If Astoria had been a half-blood, then her son would have to be a half-blood, because he has some muggle blood. Daphne and Astoria have to be purebloods. - Anonymous 19:24, May 5, 2011
Photo
How do we know if this is Daphne Greengrass? This picture without evidence is an assumption and thus is canon and incorrect. --Vana Bloom 03:48, August 9, 2011 (UTC)
Pottermore
She is mentioned on Pottermore. --Danniesen
There is a mention of Queenie Greengrass, not Daphne. But it could be that the name later is changed. But about this there is no information. Harry granger 07:37, August 26, 2011 (UTC)
Photo
Could it be that the witch in this picture is actually Daphne?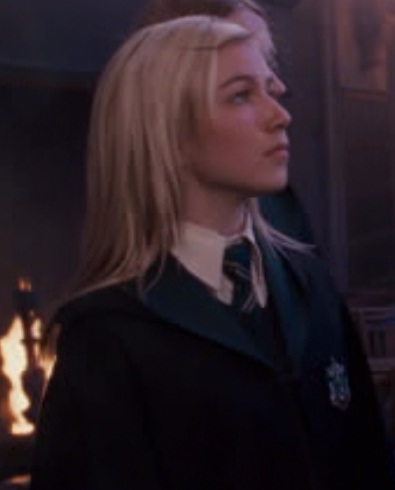 Because I'm not too sure about it. Superior Spider-Man (talk) 08:52, August 13, 2013 (UTC)
That image has been added to the page before and later removed. There's no canon proof that it's her. ProfessorTofty (talk) 17:05, August 13, 2013 (UTC)
But there's no proof that it's not Daphne either. Superior Spider-Man (talk) 17:58, August 13, 2013 (UTC)
Okay, but I don't see your point. The same could be said of another picture of some other unidentified girl wearing Slytherin robes. But unless we have proof that the picture is of Daphne, it can't be used on the page. ProfessorTofty (talk) 18:20, August 13, 2013 (UTC)
I'm not trying to make a point, I just want to know who this girl is. Superior Spider-Man (talk) 09:14, August 14, 2013 (UTC)
Well, in that case, the answer is simply we don't know. It might be Daphne, then again, it might not be, but there's just not enough evidence either way to say. ProfessorTofty (talk) 20:13, August 14, 2013 (UTC)
In my opinion, the fact of "there is or there is not proof" that some picture is determined character, isn't reason enough to post it in the text. Someone posted another image (a better one, in my opinion) of this girl. The address is: http://harrypotter.wikia.com/wiki/File:222px-Daphne-greengrass-harry-potter-wiki-i4.jpg Andre G. Dias (talk) 09:06, March 28, 2014 (Brazil)