"Are you a wizard or not?"

The title of this article is conjectural. Although it is based on canonical information, the actual name is conjecture and may be supplanted at any time by additional information released from canonical sources. If this occurs, please move this page to the appropriate title.
The Suspension Bridge towers are two of the many towers of Hogwarts Castle. They are located at one end of the Suspension Bridge at the front of the Suspension Bridge entrance. They are circular in shape with cones for turrets.[1]
Appearances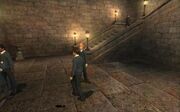 Notes and references

This article about a location is a stub. You can help by expanding it.