The Suspension Bridge towers are two of the many towers of Hogwarts Castle. They are located at one end of the Suspension Bridge at the front of the Suspension Bridge entrance. They are circular in shape with cones for turrets.
Appearances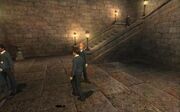 Notes and references

This article about a location is a stub. You can help by expanding it.
Ad blocker interference detected!
Wikia is a free-to-use site that makes money from advertising. We have a modified experience for viewers using ad blockers

Wikia is not accessible if you've made further modifications. Remove the custom ad blocker rule(s) and the page will load as expected.