"These giant snails change colour on an hourly basis and leave a venomous trail. They are useful in some potions, including Doxycide."
—Description
The
Streeler
is a giant snail native to
Africa
, but has been successfully bred by
wizards
in
Europe
,
Asia
and
North America
. Streelers have sharp spikes on their shells, which inject venom. This defence is most likely to scare off or kill its attackers, such as birds and small to medium sized rodents.
[1]
Behaviour
The Streeler changes colour hourly, and leaves behind a trail of venom so toxic that it burns all vegetation that it touches.
Kept as pets
It is kept as a pet by those who enjoy its kaleidoscopic colour changes. Streeler venom is one of the few known substances that can kill Horklumps.
History
The "poisonous orange snails" seen in the Magical Menagerie in 1993 may have been Streelers.
Protection from Streelers
Wearing thick protective gloves is a way to avoid getting stung by a streeler's extremely toxic shell.
Appearances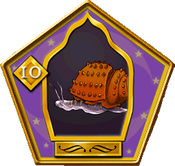 Notes and references
Ad blocker interference detected!
Wikia is a free-to-use site that makes money from advertising. We have a modified experience for viewers using ad blockers

Wikia is not accessible if you've made further modifications. Remove the custom ad blocker rule(s) and the page will load as expected.