"Neither can live while the other survives..."

It has been suggested that this article or section should be merged with Wooden Bridge.
The Gatehouse is one of the main entrances to Hogwarts. It connects the Stone Circle to the Wooden Bridge. It has a torch on the front wall.
History
Harry Potter and Hermione Granger hid here while using the Time-Turner and watched themselves going to Hagrid's Hut.
Harry, Ron and Hermione talked about the second task here.
Harry and Hermione met other Dumbledore's Army members here, shortly before the Battle of the Department of Mysteries.
Harry Potter and Katie Bell battled Vincent Crabbe and Gregory Goyle on their way to the Quidditch Gate before the trials.[1]
Appearances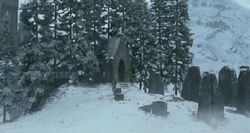 Notes and references

This article about a location is a stub. You can help by expanding it.