"That's no beauty spell, that's a Stinging Jinx! Don't worry, the swelling will go down shortly."
—Someone reassuring a victim
The Stinging Jinx[2], also known as the Stinging Hex[3] (incantation unknown) is a dark charm that can be used to sting the victim's flesh, producing a red brand like a scorch mark[3] and causing swelling.[1]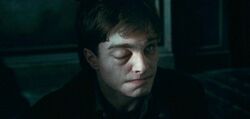 It is unknown when the
jinx
was invented and who it was invented by. Harry Potter unintentionally used this hex on Severus Snape during an Occlumency lesson. It resulted in a welt on Snape's wrist.
[4]
Hermione Granger
used it on
Harry Potter
as a means of disguising his face when they were caught by
Snatchers
after inadvertently triggering the
Taboo
on
Voldemort
's name in
1998
.
The affected flesh feels tight, swollen and puffy as though the victim has suffered an allergic reaction, and if used on the face the eyes are reduced to narrow slits.[1] It also produces welts on the skin if used on other parts of the body.
Know practitioners
Edit
Appearances
Edit
Notes and references
Edit
Ad blocker interference detected!
Wikia is a free-to-use site that makes money from advertising. We have a modified experience for viewers using ad blockers

Wikia is not accessible if you've made further modifications. Remove the custom ad blocker rule(s) and the page will load as expected.