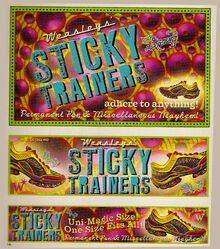 Sticky Trainers are yellow trainers with suction cups attached to the soles. The wearer can use them to climb walls and presumably to walk across ceilings as well. They were sold at Weasleys' Wizard Wheezes.
Appearances
Ad blocker interference detected!
Wikia is a free-to-use site that makes money from advertising. We have a modified experience for viewers using ad blockers

Wikia is not accessible if you've made further modifications. Remove the custom ad blocker rule(s) and the page will load as expected.