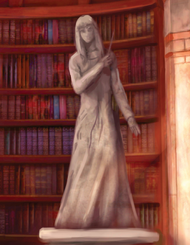 This was a tall marble statue of Rowena Ravenclaw. It stood inside the Ravenclaw common room, near the spiral staircase that led up to the Ravenclaw dormitories located in turrets off the main tower.
When Harry Potter entered the room in 1998, he described the statue as portraying the Hogwarts founder as a beautiful, but slightly intimidating witch.
Appearances
Ad blocker interference detected!
Wikia is a free-to-use site that makes money from advertising. We have a modified experience for viewers using ad blockers

Wikia is not accessible if you've made further modifications. Remove the custom ad blocker rule(s) and the page will load as expected.