Stained glass windows are windows assembled with glass panels that have been coloured, either by painting or by fusing pigments into its structure.
Hogwarts Castle was built in c. 993, corresponding to the Romanesque and Early Gothic period, when stained glass, as an art form, reached its height. As such, there are various examples of stained glass windows in the main halls of Hogwarts.
Examples
Behind the scenes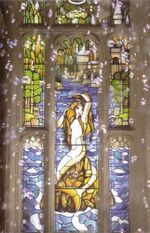 Appearances
Ad blocker interference detected!
Wikia is a free-to-use site that makes money from advertising. We have a modified experience for viewers using ad blockers

Wikia is not accessible if you've made further modifications. Remove the custom ad blocker rule(s) and the page will load as expected.