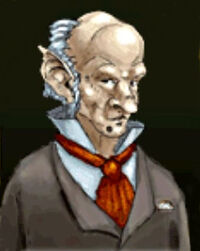 A spokesgoblin is a goblin engaged or elected to speak on behalf of others, usually Gringotts Wizarding Bank or goblin rights groups, in order to ensure that public announcements are made in the most appropriate fashion and through the most appropriate channels to maximize the impact of favourable messages, and to minimize the impact of unfavourable messages.
Known spokesgoblins
Edit
Appearances
Edit
Ad blocker interference detected!
Wikia is a free-to-use site that makes money from advertising. We have a modified experience for viewers using ad blockers

Wikia is not accessible if you've made further modifications. Remove the custom ad blocker rule(s) and the page will load as expected.