"There are plenty of eye-witness accounts. Just because you're so narrow-minded you need to have everything shoved under your nose before you–"

This article contains a list of appearances, but currently has few or no notes and references. Please help the Harry Potter Wiki by adding notes and/or references to bring this article to a higher standard of quality.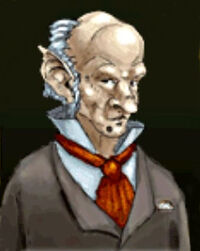 A spokesgoblin is a goblin engaged or elected to speak on behalf of others, usually Gringotts Wizarding Bank or goblin rights groups, in order to ensure that public announcements are made in the most appropriate fashion and through the most appropriate channels to maximise the impact of favourable messages, and to minimise the impact of unfavourable messages.
Known spokesgoblins
Appearances