Spello-tape is an adhesive tape that is used in the wizarding world to fix objects that either could not be fixed by a spell, or when magic was not deemed appropriate to the situation.
Known users
Behind the scenes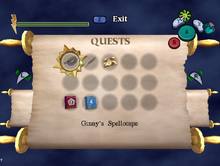 Sellotape is a British brandnamed cellophane adhesive tape. It is similar to Scotch tape in the U.S. This is an example of the numerous puns used in the books.
For learning the Mending Charm in Wonderbook: Book of Spells, the player is granted the PlayStation 3 Trophy "No need for Spellotape."
Appearances
Ad blocker interference detected!
Wikia is a free-to-use site that makes money from advertising. We have a modified experience for viewers using ad blockers

Wikia is not accessible if you've made further modifications. Remove the custom ad blocker rule(s) and the page will load as expected.