"There are plenty of eye-witness accounts. Just because you're so narrow-minded you need to have everything shoved under your nose before you–"

This article contains a list of appearances, but currently has few or no notes and references. Please help the Harry Potter Wiki by adding notes and/or references to bring this article to a higher standard of quality.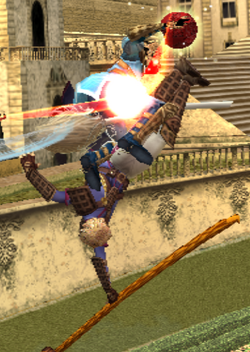 The Speelman Steal is a Quidditch tactic, used to steal the Quaffle from opposing Chasers. A Chaser flies just behind an opponent Chaser, then flies under them and jumps, hitting the opponent's broom with their feet. As the opponent is knocked down, the Chaser takes the Quaffle.
Appearances