Sophie Thompson
(b.
20 January
1962
) is a
British
actress who portrayed
Mafalda Hopkirk
in
Harry Potter and the Deathly Hallows: Part 1
, taking over the role from
Jessica Hynes
.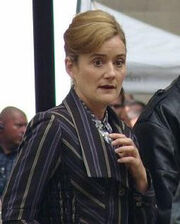 She is the younger sister of actress
Emma Thompson
who played Professor
Sybill Trelawney
in the film adaptations of
Harry Potter and the Prisoner of Azkaban
and
Harry Potter and the Order of the Phoenix
.
[1]
In 1988, she starred as Ophelia in the Renaissance Theatre Company's touring production of Hamlet, starring her future brother-in-law, Kenneth Branagh, as Prince Hamlet.
Sophie is married to British actor Richard Lumsden, who co-starred with Emma, Alan Rickman, Gemma Jones, Robert Hardy, Elizabeth Spriggs, and Imelda Staunton in 1995's Sense and Sensibility. Sophie herself also co-starred in Robert Altman's 2001 ensemble film Gosford Park, also starring Dame Maggie Smith, Michael Gambon, Geraldine Somerville, Stephen Fry, and Kelly Macdonald, with music scored by Patrick Doyle.
Trivia
External links
Notes and references
This article about an actor or actress is a stub. You can help by expanding it.