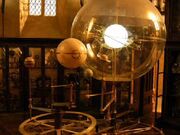 The solar system consists of the sun and the celestial bodies bound in orbit around it by the force of gravity.[1] This includes the nine planets (Mercury, Venus, Earth, Mars, Jupiter, Saturn, Uranus, Neptune, and Pluto), their moons, and various other objects, such as asteroids and comets.[1]
In 1995, Professor Trelawney showed her fourth-year Divination class a magical model of the solar system, complete with a "fiery sun" surrounded by the nine planets and their moons, all suspended under a glass dome.[2]
Appearances
Edit
Notes and references
Edit
Ad blocker interference detected!
Wikia is a free-to-use site that makes money from advertising. We have a modified experience for viewers using ad blockers

Wikia is not accessible if you've made further modifications. Remove the custom ad blocker rule(s) and the page will load as expected.