Slug & Jiggers Apothecary is a shop in Diagon Alley, established in 1207[1], which sells potions and potion ingredients[2].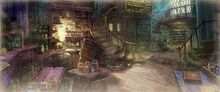 Etymology
It is possible that "slug" refers to the mollusc, and "jigger" to a liquid measure (1½ fl. oz. or about 45ml). The latter is often an apothecaries' measurement.
Appearances
Notes and references
Ad blocker interference detected!
Wikia is a free-to-use site that makes money from advertising. We have a modified experience for viewers using ad blockers

Wikia is not accessible if you've made further modifications. Remove the custom ad blocker rule(s) and the page will load as expected.