Sleekeazy
Physical information
Species
Gender

Male (possibly)

Affiliation
Occupation
Loyalty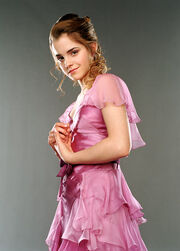 "Hermione's hair was bushy again; she confessed to Harry that she had used liberal amounts of Sleekeazy's Hair Potion on it for the ball, 'but it's way too much bother to do every day,' she said matter-of-factly, scratching a purring Crookshanks behind the ears."
—Description.
Sleekeazy was a wizard and Potioneer who invented Sleekeazy's Hair Potion, which Hermione Granger used in 1994 during the Triwizard Tournament at the Yule Ball before meeting her date Viktor Krum.[1]
Appearances
Notes and references