The Sixth Floor Corridor is one of the many corridors in Hogwarts Castle. It includes a professor's office and some kind of birds that Draco Malfoy used in his plan to mend the Vanishing Cabinet in the Room of Requirement. It is very similar to the Seventh Floor Corridor.
It is also connected to Horace Slughorn's Staircase to the North Tower and to the sixth floor of the Grand Staircase in the Grand Staircase Tower.
History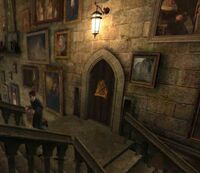 This corridor was out-of-bound to pupils this school year.[1]
Harry Potter made some visits to Horace Slughorn's office this year. Draco Malfoy also borrowed birds for his experiments with the Vanishing Cabinet.
Behind the scenes
Appearances
Notes and references
↑ Harry Potter and the Order of the Phoenix (video game)

This article about a location is a stub. You can help by expanding it.