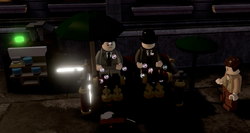 "C'mon, ya stoopid shoe-shine machine... WORK!"
A shoe-shine machine was an automated shoeshiner, capable of buffing the shoes of two people at once.[1]
Steve operated a shoe-shine machine on New York's 43rd Street, in 1926. The machine, however, broke down on at least one occasion.[1]
Appearances
Notes and references
Ad blocker interference detected!
Wikia is a free-to-use site that makes money from advertising. We have a modified experience for viewers using ad blockers

Wikia is not accessible if you've made further modifications. Remove the custom ad blocker rule(s) and the page will load as expected.