Shield Charm
Incantation

Protego
(pro-TAY-goh)

Type
Hand Movement

Light

Bright, transparent blue

Effect

Magically blocks spells & physical entities
"You wouldn't believe how many people, even people who work at the Ministry, can't do a decent Shield Charm [...] "
The Shield Charm (Protego) as a term applied to several varieties of charms, that create a magical barrier to deflect physical entities and spells, in order to protect a certain person or area.
Conjurations may sometimes rebound directly off it back towards the caster, or, in other cases, may ricochet off in other directions or dissipate as soon as they hit the shield.
It's unknown who the inventor of the spell was and when it was invented. Harry Potter learned this spell in his fourth year, in preparation for the third task of the Triwizard Tournament. Harry also taught this charm to Dumbledore's Army during the 1995-1996 school, so the members would be able to protect themselves when the time came. This was also the subject of a question of the Theory of Charms O.W.L. in 1996.[1]
This spell was used frequently during the Second Wizarding War, during many confrontation such as the: Battle of the Department of Mysteries, Battle of the Astronomy Tower, Skirmish at Malfoy Manor, Battle of Hogwarts, and many other times as well.
Casting and effectsEdit
When cast, a bright blue transparent shield appears where the casters wand is pointed providing a protective barrier between themselves and their attacker. The only spell the Shield Charm can't defend against is the Killing Curse, since it's unblockable.[2]
The Shield Charm is a moderately difficult spell. Fred and George Weasley realised that most adult wizards, even those employed by the Ministry of Magic, could not produce a functional Shield Charm (something that not only could Harry Potter accomplish at age fourteen but, also impart to members of the D.A.). They used this to their advantage when marketing their line of protective clothing (hats, cloaks, etc.), upon which permanent Shield Charms were cast.
The incantation for the simplest Shield Charm spell is Protego.
Known Variations Edit
other varieties of the Shield Charm include as followed:
Known usesEdit
Harry PotterEdit
"His Shield Charm was so strong Snape was knocked off-balance and hit a desk."
—Harry Potter's impressive mastery of the charm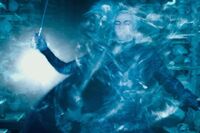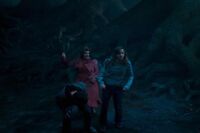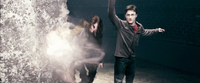 1995

Harry Potter first learned this spell in his preparations for the Third Task of the Triwizard Tournament, during which his friends Ron Weasley and Hermione Granger shot spells at him so that he could practice shielding himself.[3] Although he later demonstrated an impressive mastery of this technique surpassing that of many Ministry employees, Harry initially had difficulty casting this spell as "Hermione was able to shatter it with a well-placed Jelly-Legs jinx."[2]

1996

Harry once used the charm to defend himself against Professor Snape's Legilimency during Occlumency training, and found himself unexpectedly seeing some of Snape's memories. This was most likely the reason why Snape was using a Pensieve to store his memories, and thus to preserve his privacy. [2]
Harry used the spell multiple times during the Battle of the Department of Mysteries in order to protect himself and his fellow D.A. members from Death Eaters, and to prevent them from summoning the Prophecy from him that night.[2]
During his first sixth year Defence lesson, Harry and the other members of his class had to cast this spell non-verbally. When Snape tried to jinx him, Harry instinctively used a Shield Charm (verbally cast) that was powerful enough to throw Snape off his feet, against a table.[4]

1998

Harry cast this charm between Hermione and Ron after the latter returned, since Hermione was furious with Ron to the point of wanting to curse him.[5]
Harry used the charm multiple times during the Battle of Hogwarts to protect various fighters on his side, such as Molly Weasley after she killed Bellatrix Lestrange.[5] Harry's Shield Charms were so powerful they were able to block curses from Lord Voldemort himself.
PractitionersEdit
EtymologyEdit
Latin protego, "I cover" or "I protect".
Behind the scenesEdit
AppearancesEdit
Notes and referencesEdit