"Harry, your eyesight really is awful."

The title of this article is transcribed from an image. Due to several factors, including poor image quality and difficult-to-read fonts/handwriting, it may have been transcribed incorrectly. If you have a higher quality version of the source image, or a more accurate reading of the text, please visit this article's talk page.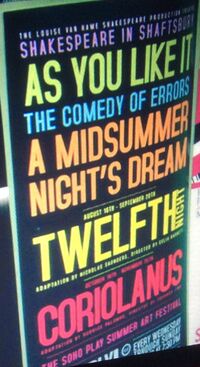 Shakespeare in Shaftsbury was a run of plays by William Shakespeare staged on Shaftesbury Avenue in London by the Louise Van Hawe Shakespeare Production Ensemble as part of the Soho Play Summer Art Festival in 1997.[1]
Featured plays
Behind the scenes
The name of Shaftesbury Avenue is misspelled as "Shaftsbury" on the prop movie poster featured in the film.
Appearances
Notes and references
↑ Harry Potter and the Deathly Hallows: Part 1 - Behind the Magic (see this image)
Ad blocker interference detected!
Wikia is a free-to-use site that makes money from advertising. We have a modified experience for viewers using ad blockers

Wikia is not accessible if you've made further modifications. Remove the custom ad blocker rule(s) and the page will load as expected.