Severus Snape's wand
History information
Made

1971 or earlier

Master(s)
Owner(s)
Material information
The wand of Severus Snape is of an unknown wood, core material, and length. Presumably, Snape purchased this wand in 1971, when he was eleven years old and beginning his time as a First Year at Hogwarts School of Witchcraft and Wizardry.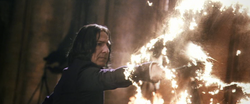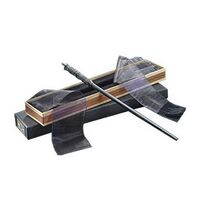 In 1994, Sirius Black took this wand after Harry, Ron, and Hermione disarmed Snape in the Shrieking Shack. He then used it to reveal Scabbers as Peter Pettigrew.
It is unknown what happened to the wand after Severus's death, although it is possible it was buried along with Snape's body (just as the Elder Wand was buried with Albus Dumbledore.)
AppearancesEdit
External linksEdit