"I couldn't get the Horcrux off you. It was stuck, stuck to your chest. You've got a mark; I'm sorry, I had to use a Severing Charm to get it away. The snake bit you too, but I've cleaned the wound and put some dittany on it."
—Hermione Granger to Harry Potter in 1997
The Severing Charm (Diffindo) is a spell that rips, divides, and separates objects into parts. At Hogwarts, it is learned in the second year. It can cut human flesh if used inappropriately or defensively, and therefore can cause death or serious injury.
Known uses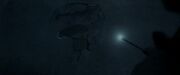 Attempted uses
Etymology
Diffindo is the Latin first person active indicative for "to split, cleave, or open."
Behind the scenes
Appearances
See also
Notes and references