"Are you a wizard or not?"

The title of this article is conjectural. Although it is based on canonical information, the actual name is conjecture and may be supplanted at any time by additional information released from canonical sources. If this occurs, please move this page to the appropriate title.
This British news programme ran at seven o'clock in the evening. It was on the air at least during the summer of 1995. Harry Potter covertly listened to a broadcast of this programme from under the Dursley's hydrangea bushes, hoping to hear a glimpse of news in the wizarding world misinterpreted by the Muggle newscasters. However, no such story presented itself during the time Harry listened to it.
Known stories covered
Behind the scenes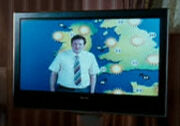 Appearances
Ad blocker interference detected!
Wikia is a free-to-use site that makes money from advertising. We have a modified experience for viewers using ad blockers

Wikia is not accessible if you've made further modifications. Remove the custom ad blocker rule(s) and the page will load as expected.