Senior Undersecretary to the Minister for Magic
Talk

0
The
Senior Undersecretary to the Minister for Magic
is a high-ranking position within the
Ministry of Magic
, answerable only to the
Minister for Magic
.
Dolores Umbridge
is the only person known to have held the title, serving under
Cornelius Fudge
,
Rufus Scrimgeour
, and then
Pius Thicknesse
, until she was arrested and imprisoned in
Azkaban
for her crimes against
Muggle-borns
.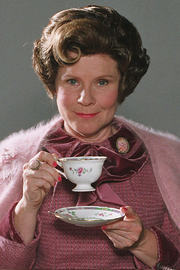 Known Senior Undersecretaries
Real World Connections
The style of the title reflects the Ministry's appropriation of standard British Civil Service hierarchy and labelling of posts.
Appearances