"Are you a wizard or not?"

The title of this article is conjectural. Although it is based on canonical information, the actual name is conjecture and may be supplanted at any time by additional information released from canonical sources. If this occurs, please move this page to the appropriate title.
"I also congratulate you to be the first student to find the secret room since 1867."

Near the Quidditch Training Grounds, there is a secret room behind a stained-glass window depicting the Hogwarts crest. In 1991, one could find four Bertie Bott's Every Flavour Beans and a Chocolate Frog Card (Merlin). It was found by a student in 1867 and again by Harry Potter in 1991[1]
Appearances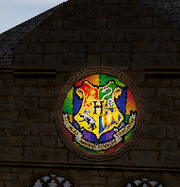 Notes and references