Scotland is a country on the island of Great Britain in Western Europe that is part of the United Kingdom. Its only land border is with England, to the south. Its capital city is Edinburgh.
Scotland is the location of Hogwarts School of Witchcraft and Wizardry and the magical village of Hogsmeade. The more remote, mountainous terrain of Scotland makes it a more likely choice of place for an institution that must be disguised to keep it invisible to Muggles. Its location is unknown, though Hermione says it is close to Dufftown. Though it is more likely in the North West Highlands (probably Sutherland) due to the more isolated landscapes and the lack of nearby towns.
Scotland is one of the most frequent breakers of Clause 73 (this is the clause that ensures the secrecy of magical creatures) of the International Statute of Wizarding Secrecy of any nation. This is mostly due to the world's largest kelpie residing in Loch Ness.
Magical games and sports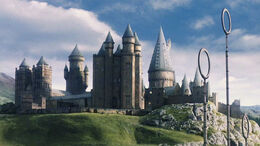 Known Scottish wizards and witches
Known Scottish Muggles
Magical creatures and plants
Food and beverages
Known locations
Behind the scenes
A number of the scenes in the films were filmed in Scotland.
The following people involved with Harry Potter came from Scotland:
Appearances
External links