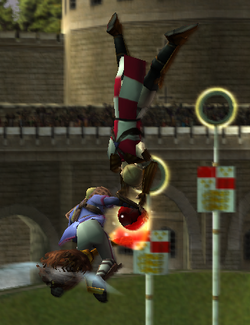 The Sabryn Steal is a Quidditch tactic, used to steal the Quaffle from opposing Chasers. A Chaser flies just behind an opponent Chaser, then flies under them and jumps off of their broom from the left side, stealing the Quaffle from the opponent's hands. After that, the Chaser lands safely back on their broom, on the right side of the opponent.
Appearances
Edit
Ad blocker interference detected!
Wikia is a free-to-use site that makes money from advertising. We have a modified experience for viewers using ad blockers

Wikia is not accessible if you've made further modifications. Remove the custom ad blocker rule(s) and the page will load as expected.