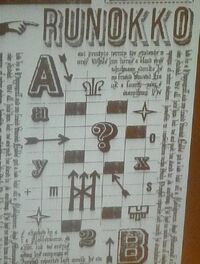 Runok Ko was a puzzle that was published in the Daily Prophet.[1]
Behind the scenes
During the "How Harry Got Its Style" presentation at LeakyCon 2012, graphic artist Eduardo Lima made the impromptu comment, "I really like Runok Ko. We should make up the rules."[2]
Appearances
Notes and references
Ad blocker interference detected!
Wikia is a free-to-use site that makes money from advertising. We have a modified experience for viewers using ad blockers

Wikia is not accessible if you've made further modifications. Remove the custom ad blocker rule(s) and the page will load as expected.