River Troll
Species information
Sentience

Semi-Sentient

Skin colour

Purple

Hair colour

Hairy

Related to
Native range
Alternative names

Troll

Height of average adult

Less than 12 feet

Distinction(s)

Short Horns
Purple Skin
Hairy

Ministry of Magic Classification

XXXX

Status
The River Troll is a breed of Troll. It has short horns, purple skin, and is hairy. They are often found lurking beneath bridges or in the middle of rivers, haunting crossers.[1] The largest river troll was defeated by Almerick Sawbridge and was believed to weigh a ton.[2]
Appearances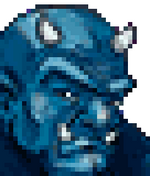 Notes and references