Remus Lupin's wand
Talk

2
11,957pages on
this wiki
Remus Lupin's wand
History information
Made

1970 or earlier

Master(s)
Owner(s)
Material information
Wood
Core
Length

10¼"

Characteristics

Pliable
Remus Lupin's wand was 10¼" long, made of cypress wood, with a unicorn tail hair core, and was described as being "pliable".[1]
History
He most likely purchased it at the age of eleven before beginning his education at Hogwarts School of Witchcraft and Wizardry in 1971.
He performed powerful magic with this wand. Peter Pettigrew took this wand from Remus when he turned into a werewolf. He then used it to attack Ron Weasley and Crookshanks. Harry disarmed Pettigrew and Remus recovered his wand.
Remus last used his wand during the Battle of Hogwarts to duel Antonin Dolohov where he lost. What happened with his wand after his death is unknown though it is possible it was laid to rest with him.
Behind the scenes
Cypress wands are said to be well-matched to wizards who are self-sacrificing and willing to die a heroic death. Lupin spent the majority of his life alone to save others from having to deal with the consequences of his affliction, and died defending Hogwarts Castle in the Battle of Hogwarts. Interestingly, they are also said to be suited to those who are "unafraid to confront the shadows in their own [...] natures", but Lupin's fear of ruining other's lives due to his lycantrophy was one of his defining character flaws.
Appearances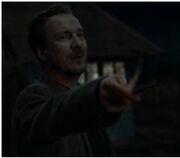 Notes and references