"Neither can live while the other survives..."

It has been suggested that this article or section should be merged with Quentin Trimble.
Professor Quintin Trimble was a wizard, who once occupied the post of Headmaster of Hogwarts School of Witchcraft and Wizardry.
Biography
Lifetime
At some point in Professor Trimble's life, he was appointed Headmaster of Hogwarts School.[2]
Post-mortem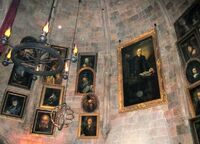 Professor Trimble died at some point in or before the 1990s.[1] There was a portrait of him hung in the Headmaster's office along with the portraits of other Headmasters and Headmistresses, in order to give advice to the current Head[2]
Behind the scenes
"Quintin Trimble" may be a misspelling of Quentin Trimble. However, it is currently unknown if the two are to be taken as the same person or not.
Etymology
Trimble may be a variation of tremble, "to shake".
Appearances
Notes and references