The Quidditch Training Pitch was a Quidditch pitch located in the Hogwarts grounds, smaller than the Quidditch Stadium where actual games were held. A noticeable difference is that this training pitch does not contain any goal hoops, rendering it unfit to actually play the game,[1] and presumably why team Captains preferred to use the Stadium instead. It did not, however, have any spectator stands, preventing students from other Houses to spy on the training.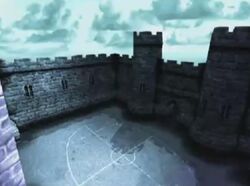 Practice sessions were opened to all students, with individual students being coached by flight instructor Madam Hooch[1] and students belonging to house teams being coached by their team Captain.[2]
Appearances
Edit
Notes and references
Edit
Ad blocker interference detected!
Wikia is a free-to-use site that makes money from advertising. We have a modified experience for viewers using ad blockers

Wikia is not accessible if you've made further modifications. Remove the custom ad blocker rule(s) and the page will load as expected.