Professor[2] Quentin Trimble
[3]
was a
wizard
who once occupied the post of
Headmaster
of
Hogwarts School of Witchcraft and Wizardry
[2]
. He authored the
textbook
The Dark Forces: A Guide to Self-Protection
, a required reading for any student enrolled in
Defence Against the Dark Arts
class
[4]
.
Biography
Lifetime
Quentin attended Hogwarts School of Witchcraft and Wizardry in his youth, and was later appointed to the position of Headmaster of the school[2]. Sometime throughout his adulthood, Quentin (or, as he was known after his appointment as Headmaster, Professor Trimble) authored the book The Dark Forces: A Guide to Self-Protection, a required reading for any Defence Against the Dark Arts student[3][4].
Post-mortem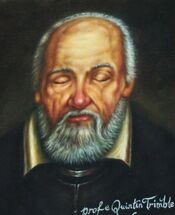 Trimble was no longer the Headteacher when Armando Dippet took over in the early twentieth century.[5] In or prior to the end of the school term in 1986, Professor Trimble passed away, and a portrait was hung of him at the Headmaster's office in Hogwarts Castle so that he could offer advice and solace to future Headmasters of the school.[2] Unfortunately, whoever painted his name misspelled it, a mistake that was never fixed.[4]
Magical abilities and skills
Etymology
"Trimble" is most likely a derivation of "tremble", meaning "to shake" - fitting considering his career as an author of books against the dark forces.
Behind the scenes
Appearances
Notes and references