"Harry, your eyesight really is awful."

The title of this article is transcribed from an image. Due to several factors, including poor image quality and difficult-to-read fonts/handwriting, it may have been transcribed incorrectly. If you have a higher quality version of the source image, or a more accurate reading of the text, please visit this article's talk page.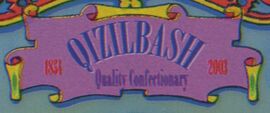 Qizilbash Quality Confectionary was a wizarding confectionary company from Pakistan.[1] One of the products the company manufactured was Cauldron Cakes, which they began producing in 1854.[1]
Etymology
Qizilbash is a term used to refer to a broad variety of Shia groups that rose to prominence in the regions of Anatolia in the 13th century. The term derives from an Ottoman Turkish word meaning "red heads," which refers to their distinctive, crimson headwear.[2]
Appearances
Notes and references