A Pygmy Puff is a miniature Puffskein, bred by Fred and George Weasley and sold at their shop Weasleys' Wizard Wheezes at 93 Diagon Alley in London, as one of the known products in the WonderWitch range. It is one of their most popular products, as George said they were having trouble breeding them fast enough for the demand.[1] Ginny Weasley bought a purple Pygmy Puff named Arnold in August 1996,[3] which she played with at Hogwarts.[4]
Ginny once joked that her brother Ron had a tattoo of a Pygmy Puff, without saying where, when Romilda Vane was pestering her about whether Harry Potter had a tattoo of a Hippogriff.[5]
Characteristics
Pygmy Puffs resemble little fluffy balls that roll around, squeak and come in various shades of pink and purple.[1] Luna Lovegood believed that all Pygmy Puffs sing on Boxing Day.[6] A group of Puffskeins or Pygmy Puffs is called a poffle.[7]
Behind the scenes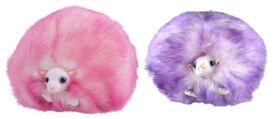 Appearances
Notes and references
↑ 1.0 1.1 1.2 1.3 Harry Potter and the Half-Blood Prince, Chapter 6 (Draco's Detour) - ""Haven't you girls found our special WonderWitch products yet?" asked Fred. "Follow me, ladies. . . ." Near the window was an array of violently pink products around which a cluster of excited girls was giggling enthusiastically. Hermione and Ginny both hung back, looking wary. "There you go," said Fred proudly […] "What are those?" She was pointing at a number of round balls of fluff in shades of pink and purple, all rolling around the bottom of a cage and emitting high-pitched squeaks. "Pygmy Puffs," said George. "Miniature puffskeins, we can't breed them fast enough." […] Ginny, putting a finger through the bars of the cage and watching the Pygmy Puffs crowd around it. "They're really cute!" "They're fairly cuddly, yes," conceded Fred. […] "Mum, can I have a Pygmy Puff?" said Ginny at once. "A what?" said Mrs Weasley warily. "Look, they're so sweet. . . ." Mrs Weasley moved aside to look at the Pygmy Puffs […] Mrs Weasley and Ginny were bending over the Pygmy Puffs."
↑ Wizards' Ordinary Magic and Basic Aptitude Test, Grade One, Part One - Magical Law, Question 7 on jkrowling.com (31 March 2006) - "7. Which of the following should receive the LIGHTEST punishment from the Wizengamot? a. Horns created accidentally on a culprit's mother, caused by broken wand b. Jelly-Legs Jinx performed on threatening Muggle c. Breeding fanged Puffskeins d. Underage witch performs Cleaning Charms in privacy of own home"
↑ Harry Potter and the Half-Blood Prince, Chapter 7 (The Slug Club) - "The Ministry cars glided up to the front of the Burrow to find them waiting, trunks packed; Hermione's cat, Crookshanks, safely enclosed in his travelling basket; and Hedwig; Ron's owl, Pigwidgeon; and Ginny's new purple Pygmy Puff, Arnold, in cages."
↑ Harry Potter and the Half-Blood Prince, Chapter 11 (Hermione's Helping Hand) - "…Harry watched Ginny Weasley playing with Arnold the Pygmy Puff for a while…"
↑ Harry Potter and the Half-Blood Prince, Chapter 25 (The Seer Overheard) - ""…all Romilda Vane does is ask me if it's true you've got a Hippogriff tattooed across your chest." […] "And what did you tell her Ron's got?" "A Pygmy Puff, but I didn't say where." Ron scowled as Hermione rolled around laughing."
↑ J.K. Rowling defines "poffle" on Twitter (08:23 - 30 November 2015) - ""@jk_rowling herd, quiver, brood, flock.... What is a group of Puffskeins or Pygmy Puffs called?" "A poffle.""
↑ Harry Potter and the Half-Blood Prince, Chapter 14 (Felix Felicis) - "As he was ducking toward the drinks table, he walked straight into Ginny, Arnold the Pygmy Puff riding on her shoulder and Crookshanks mewing hopefully at her heels […] Crookshanks trotted after her, his yellow eyes fixed upon Arnold."
↑ Harry Potter and the Order of the Phoenix, Chapter 6 (The Noble and Most Ancient House of Black) - ""Mum says get up, your breakfast is in the kitchen and then she needs you in the drawing room, there are loads more doxies than she thought and she's found a nest of dead puffskeins under the sofa.""