"Are you a wizard or not?"

The title of this article is conjectural. Although it is based on canonical information, the actual name is conjecture and may be supplanted at any time by additional information released from canonical sources. If this occurs, please move this page to the appropriate title.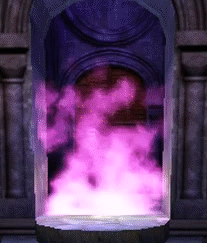 Purple flames were a type of enchanted fire used in the sixth obstacle of the defences surrounding the Philosopher's Stone during the 1991–1992 school year. After entering the chamber, purple flames sealed off the entrance, while black flames blocked the exit. Only by solving Severus Snape's potions riddle could one leave the room. The third bottle from the right contained a potion that allowed the drinker to pass unharmed through the flames and travel back the way they came.
Appearances