Principle of Artificianimate Quasi-Dominance
Talk

0
Share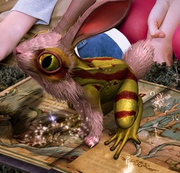 "But your teacher will be able to explain the Principle of Artificianimate Quasi-Dominance which will help you understand some of the many things that can go wrong when attempting to conjure animals from nothing."
The Principle of Artificianimate Quasi-Dominance was a magical law. It explained why many things could go wrong when conjuring living creatures out of thin air, such as severed heads, indeterminate stumps, and mutant Frog-Rabbit hybrids.
Appearances
Edit
Ad blocker interference detected!
Wikia is a free-to-use site that makes money from advertising. We have a modified experience for viewers using ad blockers

Wikia is not accessible if you've made further modifications. Remove the custom ad blocker rule(s) and the page will load as expected.