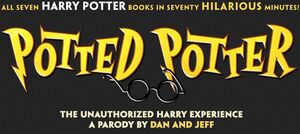 Potted Potter: The Unauthorised Harry Experience — A Parody by Dan and Jeff is a Harry Potter stage show parody that combines the elements of the original books from Harry Potter and the Philosopher's Stone to Harry Potter and the Deathly Hallows into a seventy-minute stage production.
Potted Potter was created by BBC television hosts Daniel Clarkson and Jefferson Turner. The program has toured successfully in Edinburg, Scotland and in a number of venues throughout the United Kingdom and the wider world. In November 2012, it begins a tour in Chicago, Illinois in the United States.[1]
The production has a comedic tone and is promoted with the pitch "Even if you don't know the difference between a horcrux and a Hufflepuff, Potted Potter will make you roar with laughter." The production has received glowing reviews from a number of major media sources, including The London Times, The New York Times, and the Toronto Star.[2]
External links
Notes and references