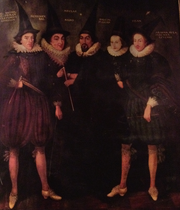 The Portrait of Five Wizards[1] depicted five wizards standing side by side, appearing somewhere in Hogwarts Castle.
Behind the scenes
Edit
The inscription, "Athal Bathel Nothe Jhoram Asey Cleyungit Gabellin Semeney Bal Meclap Nero Palcin Plegas Hean Ararma Ayla Peremies Levesso", was supposedly a spell to make one invisible.
The portrait is based off of Robert Carrey, 1st Earl of Monmouth.
Appearances
Edit
Notes and references
Edit
Ad blocker interference detected!
Wikia is a free-to-use site that makes money from advertising. We have a modified experience for viewers using ad blockers

Wikia is not accessible if you've made further modifications. Remove the custom ad blocker rule(s) and the page will load as expected.