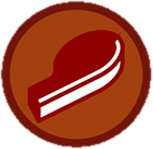 "There was no food as yet on the glittering golden plates, but small menus were lying in front of each of them. Harry picked his up uncertainly and looked around - there were no waiters. Dumbledore, however, looked carefully down at his own menu, then said very clearly to his plate, "Pork chops!""
—Description
A pork chop is a cut of pork (meat from a pig) from the loin, cut perpedicularly to the spine.
It was present at the Welcoming Feast of 1991.[1]
Albus Dumbledore enjoyed these and ordered them for dinner at the Yule Ball on 24 December, 1994.[2]
Appearances
Notes and references
Ad blocker interference detected!
Wikia is a free-to-use site that makes money from advertising. We have a modified experience for viewers using ad blockers

Wikia is not accessible if you've made further modifications. Remove the custom ad blocker rule(s) and the page will load as expected.