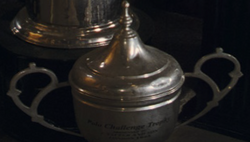 Polo is a team sport played on horseback, in which the objective is to score goals by using a long-handled mallet to hit balls into the opponent's goal. A single game is played by two teams of four players, lasts approximately two hours, and is divided into periods called "chukkahs". Polo is apparently sometimes played by wizardkind, as there was a Polo Challenge Trophy in the Trophy Room at Hogwarts School of Witchcraft and Wizardry.[1]
Head Polo is a variant of polo played by members of the Headless Hunt, in which the players' heads are used instead of a ball.[2]
Lord Stoddard Withers invented a sport that was a cross between polo and Quidditch, played on winged horses, but the sport never became popular.[3]
Appearances
Notes and references