A police car is an official vehicle used by No-maj or muggle police officers.
History
In 1926, the New York Police Department responded to what appeared to be a robbery of Voclain & Co.'s jewellery shop taking place in the Diamond District of New York City. Rather than a robbery, Newt Scamander and No-maj Jacob Kowalski were attempting to retrieve a Niffler that had escaped from Newt's case. The police arrived, sirens blaring, in a fleet of cars and a motorbike. The cars were painted black with "N.Y. POLICE" and "P.D." in silver lettering.[1]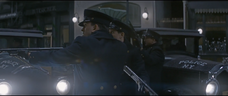 In 1977, Metropolitan Policemen PC Anderson and Sergeant Fisher were chasing James Potter and Sirius Black, who were riding Sirius' motorbike. Their police car was magically raised by the two young wizards to fend off three Death Eaters on broomsticks.[2]
Appearances
Notes and references