Pickled eel is a specialty served at the Leaky Cauldron. The meal cost 1 Galleon.
A jar pf pickled eels hit the Leaky Cauldron bartender in the face when a Mountain Troll rampaged through the pub. The pile of pickled eels was later found on the floor by Mathilda Grimblehawk and her partner while investigating the scene.[1]
Appearances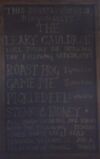 Notes and references
Ad blocker interference detected!
Wikia is a free-to-use site that makes money from advertising. We have a modified experience for viewers using ad blockers

Wikia is not accessible if you've made further modifications. Remove the custom ad blocker rule(s) and the page will load as expected.