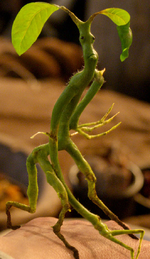 Pickett was a Bowtruckle that was kept by Newt Scamander as a pet. Although he had at least six Bowtruckles[1] (Pickett, Titus, Finn, Poppy, Marlow, and Tom[2]), Newt was especially fond of Pickett, and even carried him around in his top pocket,[3] first because Pickett had a cold and needed body warmth, and also because Pickett had attachment issues.[1]
Biography
Pickett accompanied Newt on his journey to New York, sitting inside his top pocket. He was present when the Niffler escaped and when Newt was taken to the Magical Congress of the United States of America by Porpentina Goldstein.
Later, when Newt met the goblin gangster Gnarlak, Newt agreed to give Pickett to him as part of a deal to obtain information about the last missing beasts. Gnarlak betrayed them and turned them into MACUSA. In the resulting fray, Jacob punched Gnarlak out so Newt was able to rescue Pickett and escape.[4]
Appearances
Notes and references
Ad blocker interference detected!
Wikia is a free-to-use site that makes money from advertising. We have a modified experience for viewers using ad blockers

Wikia is not accessible if you've made further modifications. Remove the custom ad blocker rule(s) and the page will load as expected.