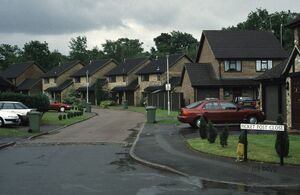 Picket Post Close was the real-life location for the filming of 4 Privet Drive in the first Harry Potter film. 12 Picket Post Close is the house number of the residence Warner Brothers used for filming the Dursleys house.[1]
Warner Brothers had to pay the residents of Picket Post Close a large fee for using their neighbourhood in the film, as well as for the inconvenience of all the filming equipment. When it came time to shoot the second film, it was decided it was easier and cheaper to shoot at Leavesden Studios where an actual Privet Drive set was built, as the residents continued to demand further payments. Picket Post Close was used in the first and fifth films.
Notes and references
Edit
Ad blocker interference detected!
Wikia is a free-to-use site that makes money from advertising. We have a modified experience for viewers using ad blockers

Wikia is not accessible if you've made further modifications. Remove the custom ad blocker rule(s) and the page will load as expected.