Phyllida Spore
Biographical information
Born

14th century (possibly)

Died
Title(s)
Physical information
Species
Gender

Female

Hair colour

Black

Skin colour

White

Affiliation
Occupation
Loyalty
Professor Dame Phyllida Spore (d. 1408) was a witch. A celebrated Herbologist and author of One Thousand Magical Herbs and Fungi, Professor Spore was the Headmistress of Hogwarts School of Witchcraft and Wizardry in her later life.
Biography
Edit
Professor Spore studied Herbology and authored One Thousand Magical Herbs and Fungi, a textbook that was still used at Hogwarts School of Witchcraft and Wizardry in 1997.[2]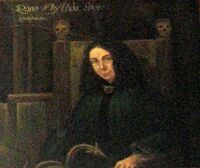 At some point in her life, she became the Headmistress of Hogwarts.[3] Also at an unknown time, Spore received the title and honour of "dame".
Post-mortem
Edit
Professor Spore died in 1408.[1] Two portraits of her hung at Hogwarts: one depicted a middle aged woman,[4] and another, hung in the Headmaster's office,[3] depicted her as a younger witch with long dark hair.[5]
Magical abilities and skills
Edit
Herbology: Phylida was a skilled Herbologist, having knowledge of One Thousand magical herbs and fungi and having written several books about the subject.
Healing magic: One of her books, Healing at home with herbs, specialised on the healing properties of those herbs.
Behind the scenes
Edit
Etymology
Edit
Her first name is from Greek for "leaf" or "plant." A spore is a body produced by fungi, algae and non-flowering plants that is very protective and resistant to drought.
Appearances
Edit
Notes and references
Edit