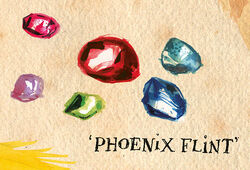 "Phoenix flint" was a term used to refer to the gemstones naturally found within pellets coughed up by phoenixes. These stones, which were rare, were said to protect those who wore them from the cold of high altitudes.[1]
Appearances
Notes and references
Ad blocker interference detected!
Wikia is a free-to-use site that makes money from advertising. We have a modified experience for viewers using ad blockers

Wikia is not accessible if you've made further modifications. Remove the custom ad blocker rule(s) and the page will load as expected.