Peter Pettigrew's wand
History information
Manufacturer
Made
Master(s)
Owner(s)
Material information
Wood
Core
Length

9¼"

Characteristics

Brittle
"Chestnut and dragon heartstring. Nine-and-a-quarter inches. Brittle. I was forced to make this shortly after my kidnapping, for Peter Pettigrew."
The wand of Peter Pettigrew was 9¼" chestnut wood, with a dragon heartstring core. It was constructed by Garrick Ollivander shortly after his abduction in 1996; the wandmaker later described the wand as "brittle". [1] The wand was forcefully taken from Pettigrew in Malfoy Manor in 1998 by Ron Weasley during the course of his and Harry Potter's escape from the dungeons. [2] Ron won its allegiance when he wrested it from Pettigrew's hand and because Ron's own wand had been taken by Snatchers, he subsequently used Pettigrew's. It is possible that this became Ron's third wand. This was the first wand that was stated specifically to be made for one particular person in mind.
Behind the Scenes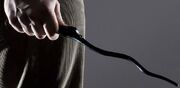 Appearances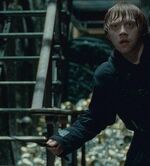 Notes and references
↑ Deathly Hallows, Ch. 23