Percival Graves[6] was an Auror, Director of Magical Security and head of MACUSA's Department of Magical Law Enforcement.
At some point prior to 6 December 1926, his identity was assumed by Gellert Grindelwald using Human Transfiguration.[7] It is unknown if he allowed this, got captured or killed during this time.
Physical appearance
When Gellert Grindelwald transfigured himself into Percival in December 1926, he was described as a middle-aged, good-looking man wearing elegant clothes.[8]
Personality and traits
As the Director of Magical Security, Percival Graves was likely highly professional and determined.
Magical abilities and skills
A highly skilled and powerful wizard, and formerly one of the most distinguished members of the 'investigative team', Graves was known as a "powerful wizard", and not even the goblin gangster Gnarlak wanted to cross him, which speaks for his efficiency.
Possessions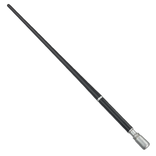 Behind the scenes
Gellert Grindelwald transfigured as Percival Graves is portrayed in the film inspired by Fantastic Beasts and Where to Find Them by Colin Farrell.[9]
Graves' story was similar to that of Alastor Moody during Harry Potter and the Goblet of Fire, though Moody was ultimately rescued and it is unclear if Graves was already killed.
It's possible that Percival Graves died on the night of 5 December 1926 in Europe. As Grindelwald didn't have Graves' appearance when he was in Europe and killed five Aurors, Percival Graves may have been one of those Aurors and Grindelwald assumed his identity posthumously.
Appearances
Notes and references