"There are plenty of eye-witness accounts. Just because you're so narrow-minded you need to have everything shoved under your nose before you–"

This article contains a list of appearances, but currently has few or no notes and references. Please help the Harry Potter Wiki by adding notes and/or references to bring this article to a higher standard of quality.
Pepper Imps are sold at Honeydukes in Hogsmeade, and possibly other places. They are tiny black peppermint sweets that make the consumer smoke at the ears and nose. Pepper Imps are among the sweets that Ron Weasley raves about when he tells Harry Potter about Honeydukes. Ron and Hermione Granger brought Harry as many sweets as they could carry, including a packet of Pepper Imps, from their first trip to Hogsmeade, as he was not allowed to go. Fiery Black Pepper Imps were mentioned on a red advertisement in the Knight Bus.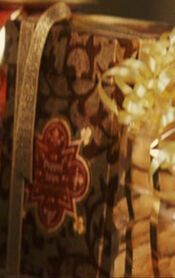 See also
Behind the scenes
Appearances